News
PSU Masters Students Focus on Human-Powered Transportation
Photo of CUPA 2019 Graduation Ceremony by Nina Johnson
As the spring term comes to a close and many Portland State University students celebrate graduation, we'd like to take a moment to highlight two excellent transportation-focused projects from this year's Master of Urban and Regional Planning (MURP) graduates of the College of Urban and Public Affairs. Last year's graduating masters students worked on equitable travel to Marquam Hill, active transportation in North PDX, car-free access to the outdoors and an examination of skateboarding for transportation.
This year, two student groups took on projects related to walking and bicycling.
ReadyStreets: Human Powered Mobility in the Post-earthquake Recovery Period
SAFE (Supporting Access for Everyone) Planning Group: Kerry Aszklar, Jaye Cromwell, Bryan Nguyen, Joey Posada, Sabina Roan, and Sophie Turnbull-Appell.
Download the full report (PDF)
How will people get around after a major earthquake? The Ready Streets project was prepared by a team of Master of Urban and Regional Planning candidates for the Portland Bureau of Transportation (PBOT) and examines ways to create a strong, connected, and disaster-resilient mobility network in the Parkrose-Argay neighborhood of Portland, as well as replicable criteria for future neighborhoods. This is accomplished by examining the existing conditions of the area, working with community members to determine key destinations and priorities, and formulating recommendations to PBOT. Key takeaways as critical for community resiliency are resilient physical infrastructure, diversified uses of the transportation network, increased capacity and capability of the community, and delegated local decision-making power.
The team will be presenting posters at the 2019 Association of Pedestrian and Bicycle Professionals (APBP) Conference as well as our 11th annual Transportation and Communities Summit on September 19. Congratulations to Bryan Nguyen who won a Fulbright scholarship this year to study waste minimization in Vietnam.
Living Streets: A Pathway Toward Inclusive, Equitable, and Accessible Pedestrian Streets
Living Streets Project Team: Eavan Moore, Kevin Tracy, Jason Nolin, Zoie Wesenberg, Oscar Saucedo-Andrade, and Kate Wihtol.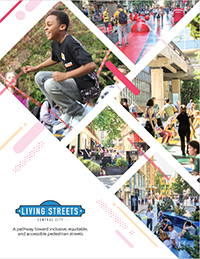 Download the full report (PDF)
What could accessible pedestrian streets look like in Central City Portland? The moment we step off the bus, park a bicycle, move by wheelchair, or get out of a car — we all become pedestrians. By putting pedestrians first, cities can improve outcomes for all transportation modes and transform streets into welcoming public spaces. Since 2009, the Portland Bureau of Transportation (PBOT) has aimed to prioritize pedestrians above all other transportation modes. Pedestrian streets help achieve this goal by reallocating space that was once dedicated to the movement and storage of cars to social spaces for people to interact and recreate. Much can be learned from the many pedestrian streets across the globe. The Living Streets project team compiled key findings from studies of successful and failed pedestrian streets, emerging lessons from recent news reports, and recommendations from those with implementation experience. These findings are tailored to Portland's urban context: a city primarily built for cars, but aspiring and progressing toward a more walkable, bikeable, and transit-friendly future. The project follows on the heels of the recent approval of PedPDX, the Portland Bureau of Transportation's citywide pedestrian plan.
To see more MURP projects from Portland State University students, check out the MURP project archive page.
The Transportation Research and Education Center (TREC) at Portland State University is home to the National Institute for Transportation and Communities (NITC), the Initiative for Bicycle and Pedestrian Innovation (IBPI), and other transportation programs. TREC produces research and tools for transportation decision makers, develops K-12 curriculum to expand the diversity and capacity of the workforce, and engages students and young professionals through education.