News
Alumni in the News: Wiser named softball coach at Battle Ground High School
Arielle Wiser  MEd '12graduated from Portland State University with her bachelor's degree in Health Studies in 2011 and her Master's in Education in 2012.
Read the original article in the The Reflector here.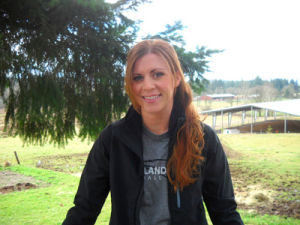 New Battle Ground High School softball coach Arielle Wiser is an accomplished player herself and is bringing some high-level collegiate experience to her alma mater.
The 2007 graduate was born and raised in Battle Ground. Wiser's only stint away from the area was the time she spent as a student, player and graduate assistant at Portland State University.
Wiser has memories from the time she was 6 years old when she was playing in Battle Ground Little League. She advanced to the Amateur Softball Association participating on club teams and on the softball team at Battle Ground High School. As a sophomore, she was recruited by Portland State University and played as a Viking for four years.
During her high school career, she gleaned many honors including all-Greater St. Helen's League three years and all-state her senior year. Her success continued at PSU, where she garnered Pacific Coast Softball Conference (PCSC) Freshman of the Year and Most Valuable Player and Defensive Player of the Year her senior year, among a slew of other distinctions.
While Wiser describes softball as the sport she's most passionate about, the whole story would not be told without mentioning that she earned Most Valuable Player in basketball three years running at Battle Ground and made all-league her senior year. When she was very young, she even dabbled in barrel racing. To say that Wiser is a gifted and dedicated competitor might be an understatement.
Wiser had a few notable influences and experiences along the way, most recently as the head coach at Mt. Hood Community College. When she graduated with a Master of Education from PSU, she spent a year working as an assistant coach with Meadow McWhorter. She credits McWhorter as a great mentor and someone she learned a lot about coaching from.
The mainstay in her life, however, is her family, who've been her support system all through the years.
"My dad, for sure," Wiser said. "He really motivated me and always took extra time to help me out ... and he knows the game really well and then I had a couple really great ASA coaches that mentored me through and told me I had the ability to play college ball."
Aside from her coaching at MHCC, where true to form she received the 2012-2013 New Coach of the Year award, Wiser spent a year coaching softball at Madison High School in Portland. For her, coaching is fun and comes naturally. With her batting, pitching and field experience she brings a lot of personal knowledge to her new position. It's another way to have a sport in her life that she continues to play as a member of a slowpitch team.
Wiser is excited about the 2014 Battle Ground team she'll be working with.
"We've been doing open gyms and conditioning since the beginning of January. They look pretty strong," Wiser said. "There's some senior returns and some girls coming back that will be strong leaders for the team. We're really pushing, breaking down fundamentals and going hard on conditioning."
Fundamentals is an approach Wiser strongly believes in. As a player, the standout coaches in her mind broke things down to the most basic baby steps and then they drilled them again and again. For Wiser, success is all in the details.
With Wiser's enthusiasm for her new position, she's also aware that Battle Ground High School's softball team has not yet made it to the state tournament. She remembers, even when playing for the Tigers, several times the potential was there and it just didn't materialize. Having that fact in the back of the minds of this year's team is some of the motivation Wiser will be drawing from to take them to her goal of a state appearance.
Also a licensed health and fitness teacher at Tukes Valley Middle School, Wiser has a lot of facets of her personal and professional life to draw from and funnel into her coaching position.
"I want to create the culture of a program where they're being held accountable,'' she said. "A lot of the little things you learn in softball are directly related to life, basically. I feel like I can relate to the girls and give them a lot of advice and be real with them."