News
Alumni in the News: Former Viking and Super Bowl Champion DeShawn Shead visits his alma mater
Read the GoViks.com version of the story here.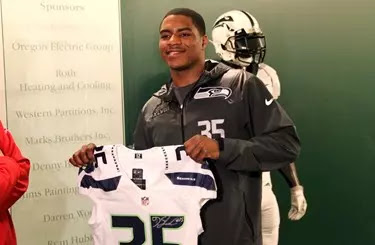 Former Portland State defensive back and current Super Bowl Champion DeShawn Shead paid a visit to the Portland State Athletics offices on Thursday. Shead, a Viking star from 2008-11, returned as an NFL conquering hero. Now a member of the Seattle Seahawks, he played in and became a Super Bowl XLVIII Champion.
Shead was interviewed by multiple media outlets during his visit. Interviews will appear on KATU 2, KOIN 6, KPTV 12 later today, as well as in the Portland Tribune. He related his story of making it in the NFL and the whole Super Bowl experience earlier this month.
"You grow up wanting to play in the NFL, and then have the dream and aspiration of playing in the Super Bowl... to win it is indescribable," Shead said. "To be in it, to win, and to dominate is something. That's history... the first Seattle team to win, to be a part of a defense that is legendary, to have an impact and be a part of that team, is an amazing feeling."
Shead earned first team All-Big Sky Conference honors as a Portland State senior in 2011 for the 7-4 Vikings. A native of Palmdale, CA, Shead started and played in all 44 games of his career, totaling 211 tackles, 11 interceptions and 29 pass breakups at Portland State.
"Coming back and see everybody, coaches and friends, it is definitely a warm feeling," said Shead. "To know I spent four-and-a-half years of my life (at Portland State) and became the man I am today, molded into who I am at this college, it's a great feeling."
On Saturday, Shead will be recognized at the Portland State women's basketball game at the Stott Center. The Vikings will host Southern Utah in a game at 2 p.m.