Dr. Annie Lindgren
CLEE Director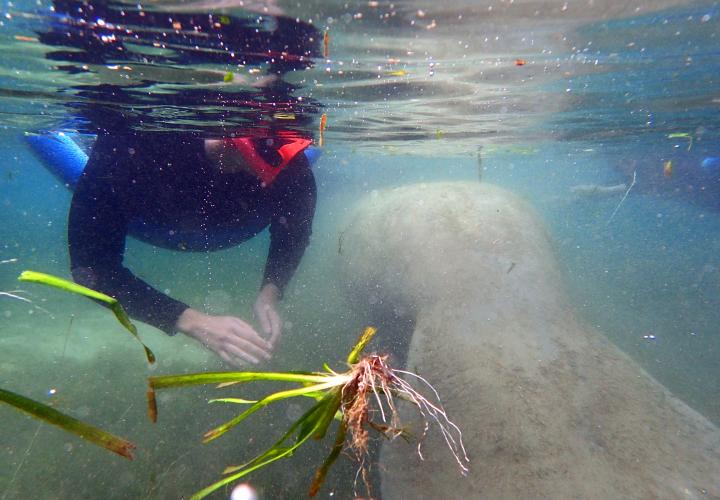 Contact Information
Email: arl3@pdx.edu
Phone: (503) 725-3854
Office: SRTC 428
Mailing address: 1719 SW 10th Ave, SRTC 247, Portland OR, 97201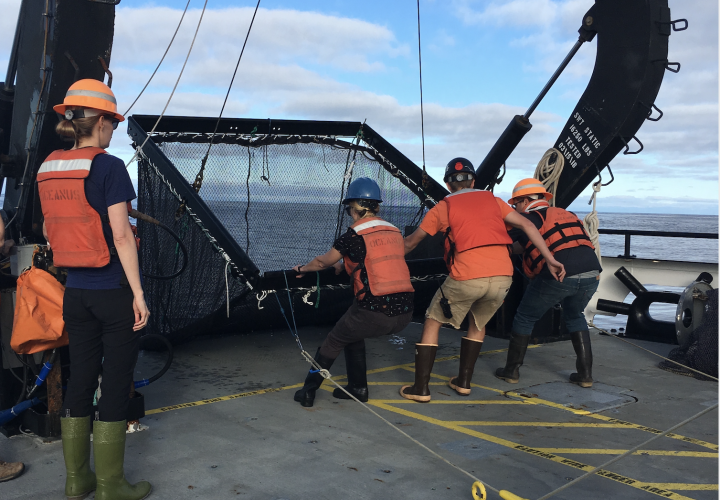 ABOUT
Dr. Annie Lindgren has served as the Coordinator of CLEE since 2011, and Director since 2018. She serves as the Chair of the Steering Committee and oversees day-to-day operations of the center. A deep-sea biologist, Dr. Lindgren also teaches, mentors students and conducts independent research.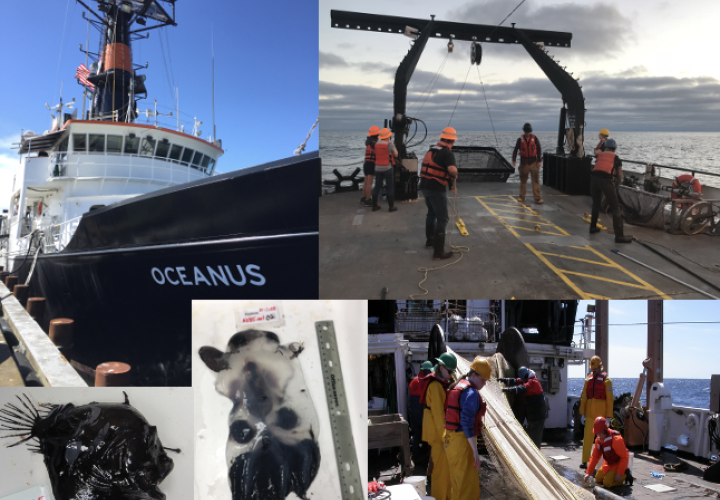 Research
Research in the Lindgren lab focuses on systematics and evolution of cephalopods (squids, octopuses and cuttlefish). We use molecular and morphological approaches to describe new species of deep sea squid, trace biogeographic patterns, and identify physiological mechanisms driving dispersal in the open ocean.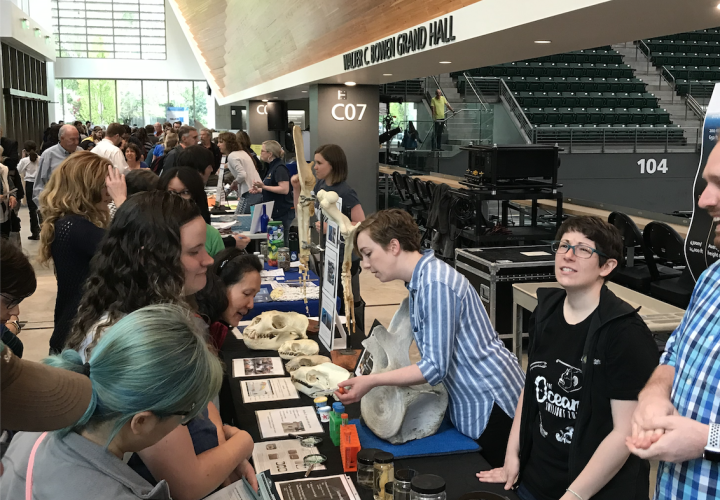 Outreach
Dr. Lindgren works extensively with CLEE faculty to increase informal STEM opportunities for the public via several avenues including PSU, and PDX Women in Science events, OMSI "Meet a Scientist" and Science Pubs, K-12 mentoring and field trips. To schedule tours or events, please fill out the contact form.
PUBLICATIONS
Google Scholar Profile: https://scholar.google.com/citations?user=KmAR04UAAAAJ&hl=en
Staudinger MD, Dimkovikj VH, France CAM, Jorgensen E, Judkins H, Lindgren AR, Shea EK, Vecchione M. 2019. Trophic ecology of the deep-sea cephalopod assemblage near Bear Seamount in the Northwest Atlantic Ocean. Mar Ecol Prog Ser 629:67-86. https://doi.org/10.3354/meps13121 
Judkins H, Lindgren AR, Villanueva R, Clark K, Vecchione M. 2019. A description of three new bathyteuthid squid species from the North Atlantic and Gulf of Mexico. Bull Mar Sci: https://doi.org/10.5343/bms.2019.0051
Bolstad KSR, Braid HE, Strugnell JM, Lindgren AR, Lischka A, Kubodera T, Lapitkhovsky VL, Roura Labiaga A. 2018. A mitochondrial phylogeny of the family Onychoteuthidae (Cephalopoda: Oegopsida). Mol Phylogen Evol 128:88-97.
Lindgren, AR and Anderson, FE. 2018. Assessing the utility of transcriptome data for inferring phylogenetic relationships among coleoid cephalopods. Molecular Phylogenetics and Evolution 118:330-342.
Shea EK, Judkins H, Staudinger MD, Dimkovikj VH, Lindgren AR, Vecchione M. 2017.  Cephalopod biodiversity in the vicinity of Bear Seamount, western North Atlantic based on exploratory trawling from 2000 to 2014.  Marine Biodiversity (DOI: 10.1007/s12526-017-0633-3).
Lindgren AR, Buckley BA, Eppley S, Reysenbach A-L, Stedman KM, Wagner J.  2016.   Life on the Edge – the Biology of Organisms Inhabiting Extreme Environments: An Introduction to the Symposium.  Integrative and Comparative Biology. Online early (DOI: 10.1093/icb/icw094)
Allcock AL, Lindgren AR, Strugnell JM.  2014.  The contribution of molecular data to our understanding of cephalopod evolution and systematics: a review.  Journal of Natural History. doi: 10.1080/00222933.2013.825342
Spieser DI, Pankey MS, Zaharoff AK, Batelle BA, Bracken-Grissom HD, Breinholt JW, Bybee SM, Cronin TW, Garm A, Lindgren, AR, Patel NH, Porter ML, Protas ME, Rivera AS, Serb JM, Zigler KS, Crandall KA, Oakley TH.  2014.  Using phylogenetically-informed annotation (PIA) to search for light-interacting genes in transcriptomes from non-model organisms.  BMC Bioinformatics 15: 350.
Reysenbach A-L, LiuY, Lindgren AR, Wagner ID, Sislak CD, Mets A, Schouten S.  2013. Mesoaciditoga lauensis gen. nov., sp. nov., a moderate thermoacidophilic Thermatogales from a deep-sea hydrothermal vent.  Int. J. Syst. Evol. Micro. 63: 4724-4729.
Oakley, TH, Wolfe, JM, Lindgren AR, Zaharoff, AK.  2013.  Phylotranscriptomics to bring the understudied into the fold: monophyletic Ostracoda, fossil placement and pancrustacean phylogeny.  Mol. Biol. Evol. 30(1): 175-188 (DOI:10.1093/molbev/mss216).
DeSilva-Davila R, Hochberg FG, Lindgren AR, Franco-Gordo C.  2013.  Paralarval development, abundance, and distribution of Pterygioteuthis hoylei (Cephalopoda: Oegopsida:Pyroteuthidae) in the Gulf of California, Mexico.  Molluscan Res. 33(1): 50-64.
Lindgren AR, Pankey MS, Hochberg FG, Oakley TH.  2012.  A multi-gene phylogeny of Cephalopoda supports convergent morphological evolution in association with multiple habitat shifts in the marine environment.  BMC Evol. Biol. 12: 129.  (DOI:10.1186/1471-2148-12-129)
Albertin C, et al. 2012.  Cephalopod Genomics: A plan of strategies and organization.  St. Gen. Sci. 7:1. doi:10.4056/sigs.3136559
Lindgren AR. 2010.  Systematics and distribution of the genus Pterygioteuthis (Cephalopoda: Oegopsida) in the eastern tropical Pacific with the elevation of Pterygioteuthis giardi hoylei to species status.  Journal of Molluscan Studies 76(4): 389-398.
Lindgren AR.  2010.  A molecular phylogeny of Decapodiformes (Mollusca: Cephalopoda) with special focus on the squid Order Oegopsida.  Molecular Phylogenetics and Evolution 56: 77-90.
Strugnell JA, Lindgren AR, Allcock L.  2009.  Evolution of Cephalopoda.  In: TimeTree of Life S.B. Hedges and S. Kumar (eds.), Oxford University Press.  Pp. 242-246.
Young RE, Lindgren AR, Vecchione MV.  2008.  Mastigoteuthis microlucens: a new species of the squid family Mastigoteuthidae (Mollusca: Cephalopoda).  Proceedings of the Biological Society of Washington 121(2): 276-282.
Lindgren AR, and Daly M.  2007.  The impact of length-variable data and alignment criterion on the phylogeny of Decapodiformes (Mollusca: Cephalopoda).  Cladistics. 23: 464-476.
Strugnell JA. and Lindgren AR.  2007.  A barcode of life database for the Cephalopoda:  Considerations and Concerns.  CIAC Special Edition of Reviews in Fish Biology and Fisheries 17(2-3): 337-344.
Giribet G, Okusu A, Lindgren AR, Huff SW, Schrodl M, Nishiguchi MK.  2006.  Evidence for a clade composed of molluscs with serially repeated structures: Monoplacophorans are related to chitons.  Proceedings of the National Academy of Science of the USA 103(20): 7723-7728.
Lindgren AR, Katugin O, Amezquita E, Nishiguchi MK.  2005.  A molecular phylogeny of Gonatidae (Mollusca: Cephalopoda).  Molecular Phylogenetics and Evolution 36:101-111.
Lindgren AR, Giribet G, Nishiguchi MK.  2004.  A combined approach to the phylogeny of Cephalopoda (Mollusca).  Cladistics 20: 454-486.