MFA Studio Practice: Program Details
Built around a core of research-intensive creative investigation, the three-year, full-residency Studio concentration of the MFA in Contemporary Art Practice (StudioMFA) degree focuses on interdisciplinary experimentation and the exploration of ideas through the experience of making. Students are supported in a range of production disciplines, from the traditional to the emerging, as they consider the multiple ways that art lives in and beyond the studio.
Resources that promote an environment conducive to challenging and rigorous study include close ties with resident faculty; dialogue with visiting artists and scholars; seminars in current issues, theory, and contemporary art history; exhibition and travel opportunities; collaboration with students and faculty in other disciplines and comprehensive courses in pedagogy and professional practices. The School of Art + Design has multiple galleries, state-of-the-art computer graphics, and multimedia facilities, a foundry, a welding studio, a printmaking studio with etching and lithography presses, a wet lab for photography and screenprinting, textile rooms, and wood and metal workshops. PSU's 50-acre urban campus serves as a laboratory for sustainable practices.
Studio MFA | 2020-21
Portland State University is rising to the challenge of Covid-19 by developing new ways to learn, live, and connect — on and off-campus. To protect the health and well-being of our students and faculty, all of our classes for the 2020-21 academic year will be conducted remotely; but our campus is open with new safety measures to provide student support. The Studio MFA Program is working with the university to implement a phased approach to resuming research on campus for our students.
More information can be found here: Covid-19 and Research at PSU
Additionally, during the 2020-21 academic year the Studio MFA Program is supporting students doing research from home with hardship grants through generous contributions from the Windgate Foundation. If you would like to make a financial contribution to students in our program who have been impacted by Covid-19, please contact art@pdx.edu.
Worldmaking as Art Practice
To say our world is in a health, ecological, and political crisis is an understatement. How can art resonate, react, and speak to the volatility of these times? While maintaining its core curricular structure, our academic program for 2021-22 will be enriched by this far-reaching question using it as a trigger for conversation, artmaking, research, and critical thinking. This vision stems from our belief that art is instrumental in creating metaphorical or tangible models for possible or alternate worlds that are more vibrant, interconnected, and conscious than the realities we experience today.
Our Studio MFA program for 2021 welcomes all those coming from diverse backgrounds interested in actively addressing artmaking as a means of worldmaking through a wide array of aesthetic, material, conceptual, formal, performative, or narrative strategies. Worldmaking is interpreted here as the creation of fictive, speculative, or internal worlds that bear their own logic and coherence, and whose existence speaks to the actual world contributing to understanding, challenging, and navigating it. As envisioned by our program, worldmaking entails the freedom of experimenting, exploring, refining, and playing with your craft while diving deep into the intersections of your interests whether they may be personal, political, cultural, ecological, spiritual, or/and socially-related.
In the 2021-22 academic year, our studio-immersive approach to artmaking will be nurtured with an optative "worldmaking seminar" comprising holistically-programmed artist talks and workshops offered side by side to our courses. We invite prospective students who have an interest in this exploration to apply to our program in the coming academic year.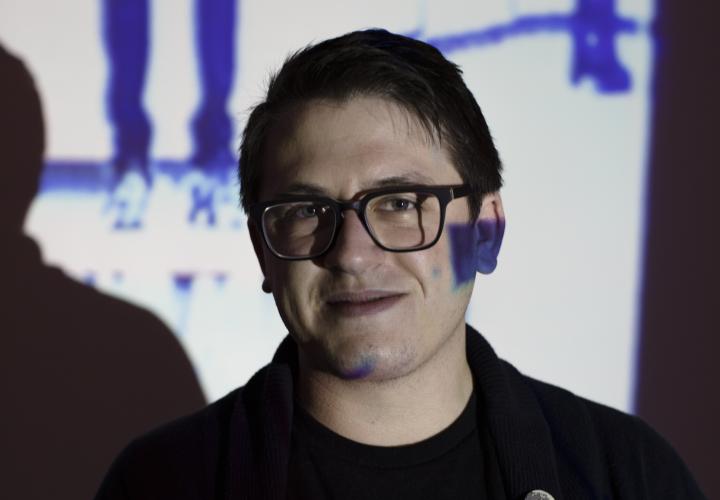 How to Apply
Applications to the Studio MFA Program opens on December 1st, 2020, and closes on January 15th, 2021.
Studio MFA Visiting Artist Program
Our Visiting Artist Program brings together artists and cultural producers from a variety of disciplines to explore the subjects of their own work by way of studio visits, workshops, live public lectures, and artist-in-residence projects. Students work together to produce programming for this series.
Distinguished guests to the Visiting Artist Program include:
Lucy Cotter, Kahlil Robert Irving, Guadalupe Maravilla, Joiri Minaya, Chitra Ganesh, Laylah Ali, Porpentine Charity Heartscape, Ronnie Quevedo, Arnold Kemp, Jamillah James, Samiya Bashir, Tannaz Farsi, Philip March Jones, Kemi Adeyemi, Nicole Pietrantoni, Richard Vine, Michelle Grabner, James Luna, Basma Alsharif, Dawn Kasper, Tony Feher, William Pope L., Sergei Tcherepnin, Amanda Ross-Ho, Critical Art Ensemble.
Publications
In the recent past, students in the Studio MFA program have had the opportunity to contribute to publications documenting our MFA Studio Visiting Artist Lecture Series and Critical Conversation Series. Students have also produced a number of zines and catalogs collaboratively.
These publications will be archived on this webpage soon.
Studios
Every artist needs a place to call their own for experimentation, critique, and preparation. Our MFA studios are clustered in small groups, giving our students the opportunity to interact with their fellow MFAs and faculty in an environment that can either be as public and collaborative or private and studious as they choose. Just as artists never stop working, so too do their workspaces: access to studios is available 24 hours a day year-round in a secured, key-card accessible environment.
Course of Study
Working with MFA faculty during the first and second years, students are encouraged to explore new media, models, and ideas as they develop a proposal for a culminating solo exhibition project in their third year. Individual faculty discussions, peer critiques, seminars on current issues, and presentations by invited guests help students broaden their field of inquiry. Upon successful completion of the candidacy review at the end of the second year, students work with a faculty advisor to produce a solo public exhibition or present their work in another appropriate form in the Spring Quarter of the third year.
The School of Art + Design's Studio MFA degree is a three-year, full-residency program. Students complete at least 90 credits, distributed as follows:
| Coursework | Credits |
| --- | --- |
| Contemporary Art Practice Directed Studies | 40 credits |
| Visiting Artist Program Seminar | 12 credits |
| Contemporary Art History/Theory | 12 credits |
| Graduate Seminars | 12 credits |
| Electives (outside the department) | 8 credits |
| Graduate Exhibition Project | 6 credits |
| Total | 90 credits |
The following are a few examples of courses that fulfill the above requirements:
ARH 598 & 599 Contemporary Art I & II (8 credits)
A two-quarter sequence investigating global developments in visual arts of the past decade. May be repeated for a maximum of 8 credits. Required for MFA. Prerequisite: graduate standing.
ART 530 Critical Theories of Art (4 credits)
Introduction to and overview of major issues in contemporary art theory, including intellectual history, theoretical antecedents, theories of aesthetics, and current critical concerns. Through reading and discussion, the course provides a basis for developing a common critical language and an opportunity for an in-depth exploration of contemporary art practices in relation to a variety of cultural and historical topics. Maximum 4 credits. Required for MFA. Prerequisite: ARH 550.
ART 578 Group Critique (2 credits)
Weekly group discussion of student work-in-progress with rotating graduate faculty members. Evaluation of studio work is informed by reading and other contextual materials selected by students and faculty. Visiting artists, curators, critics, or other arts professionals participate occasionally. May be repeated for a maximum of 40 credits. Required for MFA Studio. Prerequisite: graduate standing.
ART 580 Directed Studies Studio Practice (2 credits)
Consultation and directed study in studio practice production with a supervising faculty member. In-depth discussions and assessment of graduate student's work-in-progress in relation to contemporary art practices and criticism, historical practices, technical and formal concerns and/or related interdisciplinary interests. Directed assignments and course of study will be given as appropriate. May be repeated for a maximum of 40 credits. Required for MFA Studio. Prerequisite: graduate standing.
ART 581 Special Topics and Exhibition Strategies Seminar (2 credits)
First-term examines selected issues in contemporary art and culture. The instructor's current research interests determine course material. Course format consists of assigned readings, discussion, and a writing component. Includes a survey of local, as well as national and international resources. Second term is a survey of exhibition strategies preparing students for the installation of their Graduate Project exhibitions in Spring Term of the second year. Field trips, presentations, screenings, and assigned lectures may be included. May be repeated twice for a maximum of 4 credits. Required for MFA. Prerequisite: graduate standing.
ART 582 SEM: Artists as Writers (2 credits)
Explores the role of writing and research in contemporary art practice. The course considers some of the reasons visual artists write, reviews various types of historical and contemporary artists' writing, and explores basic research methods. Readings, discussion, individual and group projects form a basis out of which students begin to develop a means of written expression that compliments their visual work. Third-year MFA candidates complete the first draft of their Graduate Project Statement. May be repeated twice for a maximum of 4 credit. Required for MFA. Prerequisite: graduate standing.
ART 583 SEM: Teaching Visual Culture (2 credits)
Explores teaching at local and national institutions as preparation for teaching in higher education. This seminar includes curriculum development, syllabi development, assessment, and educational objectives viewed through the lens of issues in contemporary art education and visual culture. Maximum 2 credits. Required for MFA. Prerequisite: graduate standing.
ART 585 Professional Practices (2 credits)
Explores various topics in contemporary art, concentrating on specific issues of professional development for graduate students. Through lectures, research, reading, and writing, a variety of tools and strategies directly related to contemporary art world practices will be taught. The students will be required to apply these issues to their specific art production. Prerequisite: second-year standing in the Master of Fine Arts Program. Maximum 2 credits.
ART 586 Visiting Artist Program (2 credits)
Course focuses on exposing students to different strategies in presenting work. Students in this course visit artist studios, gain insight from remote and live artist lectures and engage in in-depth discussion with visiting artists. On occasion, visiting artists conduct one-on-one visits with students at the MFA studios. May be repeated for a maximum of 12 credits. Required for MFA. Prerequisite: graduate standing.
Additional Faculty
Laura Hughes (Directed Studies, Artists as Writers)
Tabitha Nikolai (Directed Studies, Critique Seminar)
Taravat Talepasand (Directed Studies)
Anna Gray (Artists as Writers)
Libby Werbel (Exhibition Strategies)
Patricia Vázquez Gómez (First-Year Seminar)
Iris Williamson (Critical Theories of Art)
Questions about the program?
Contact Ralph Pugay | ralphp@pdx.edu | 503-725-3515 or 800-547-8887 extension 3515