MFA in Contemporary Art Practice
Studio Practice
Built around a core of research-intensive creative investigation, the three-year, full-residency Studio concentration of the MFA in Contemporary Art Practice degree focuses on interdisciplinary experimentation and the exploration of ideas through the experience of making. Students are supported in a range of production disciplines, from the traditional to the emerging, as they consider the multiple ways art can live in and beyond the studio.
Resources that promote an environment conducive to challenging and rigorous study include close ties with resident faculty; dialogue with visiting artists and scholars; seminars in current issues, theory, and contemporary art history; exhibition and travel opportunities; collaboration with students and faculty in other disciplines and comprehensive courses in pedagogy and professional practices. The School of Art + Design has multiple galleries, state-of-the-art computer graphics, and multimedia facilities, a foundry, a welding studio, a printmaking studio with etching and lithography presses, a wet lab for photography and screenprinting, textile rooms, and wood and metal workshops. PSU's 50-acre urban campus serves as a laboratory for sustainable practices.
Applicants to Portland State's Studio MFA program are invited from a variety of backgrounds, preferably but not exclusively with BA or BFA degrees in the fine arts.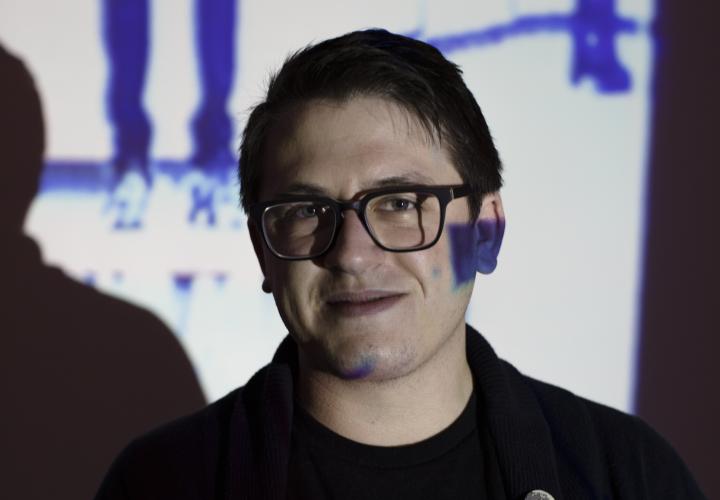 Studio MFA Visiting Artist Program
Our Visiting Artist Program brings together artists and cultural producers from a variety of disciplines to explore the subjects of their own work by way of studio visits, remote conversations, live public lectures, and artist-in-residence projects. Distinguished guests are often invited to conduct one-on-one visits with students at the MFA studios.
Distinguished guests to the Visiting Artist Program include:
Chitra Ganesh, Laylah Ali, Porpentine Charity Heartscape, Ronnie Quevedo, Arnold Kemp, Jamillah James, Samiya Bashir, Tannaz Farsi, Philip March Jones, Kemi Adeyemi, Nicole Pietrantoni, Richard Vine, Michelle Grabner, James Luna, Basma Alsharif, Dawn Kasper, Tony Feher, William Pope L., Sergei Tcherepnin, Amanda Ross-Ho, Critical Art Ensemble.
Publications
Students in our Studio Practice MFA program have the opportunity to contribute to publications documenting our MFA Studio Visiting Artist Lecture Series and Critical Conversation Series. Students have also produced a number of zines and catalogs collaboratively. The following are a few examples:
[STUDIO]: A document of our MFA Studio Visiting Artist Lecture Series
Of No Essential Consequence: A brochure for the exhibition showcasing MFA students returning for their second year in our program
19 Human Artists: A zine documenting an exchange exhibition between the University of Oregon and Portland State University studio MFA students
Studios
Every artist needs a place to call their own for experimentation, critique, and preparation. Our MFA studios are clustered in small groups, giving our students the opportunity to interact with their fellow MFAs and faculty in an environment that can either be as public and collaborative or private and studious as they choose. Just as artists never stop working, so too do their workspaces: access to studios is available 24 hours a day year-round in a secured, key-card accessible environment.
Course of Study
Working with designated faculty during the first and second years, students are encouraged to explore new media, models, and ideas as they develop a proposal for a culminating solo exhibition project. Individual faculty discussions, peer critiques, seminars on current issues and presentations by invited guests help students broaden their field of inquiry. Upon successful completion of the candidacy review at the end of the second year, students work with a faculty advisor to produce a solo public exhibition or present their work in another appropriate form in the Spring Quarter of the third year.
The School of Art + Design's Studio MFA degree is a three-year, full-residency program. Students complete at least 90 credits, distributed as follows
| Coursework | Credits |
| --- | --- |
| Contemporary Art Practice Directed Studies | 40 credits |
| Visiting Artist Program Seminar | 12 credits |
| Contemporary Art History/Theory | 12 credits |
| Graduate Seminars | 12 credits |
| Electives (outside the department) | 8 credits |
| Graduate Exhibition Project | 6 credits |
| Total | 90 credits |
The following are a few examples of courses that fulfill the above requirements
Questions about the program?
Contact Ralph Pugay | ralphp@pdx.edu | 503-725-3515 or 800-547-8887 extension 3515